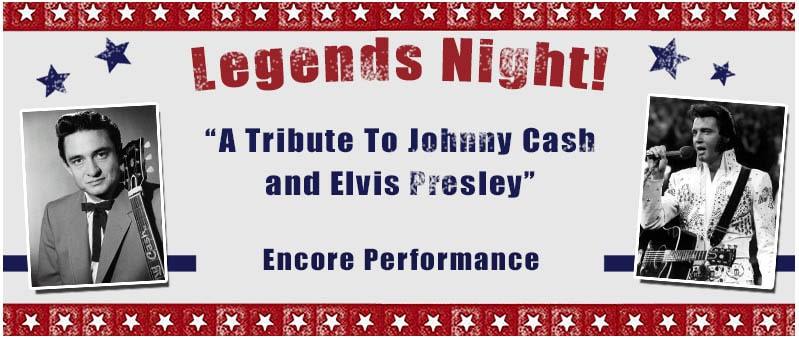 Legends Night - A Tribute to Johnny Cash and Elvis Presley
Elvis was one of the greatest entertainers in American history. Mark Lonsinger, staying true to the King's style and delivery, strives to pay tribute to his music, which has stood the test of time for more than 60 years. Spanning his early hits to his gospel classics and his later career show tunes, the presentation is designed to show the wide ranging and unique music made famous by the King of Rock N Roll.
Johnny Cash, the Man in Black, was a singer, guitarist and songwriter whose music innovatively mixed country, rock, blues and gospel influences. Enjoy an incredibly realistic tribute from John Schmid, who's deep country voice and rich storytelling transforms the show to feel like you're listening to the Man In Black himself.
As always – the show will be hosted by the hilarious award-winning cast of the Amish Country Theater. So come to Legends night and enjoy a night of fun-filled acts, toe-tappin' music, and side-splittin' comedy. You won't want to miss it!
For event and ticket info: https://amishcountrytheater.co...
| | |
| --- | --- |
| Event Location | Amish Country Theater, 4365 State Route 39, Berlin, OH |
| Date | Wednesday, August 28, 2019at 7:00pm - 9:00pm |
| Duration | 2h |
| Repeats? | No |